Solar Panels Installed at Mentone Elementary School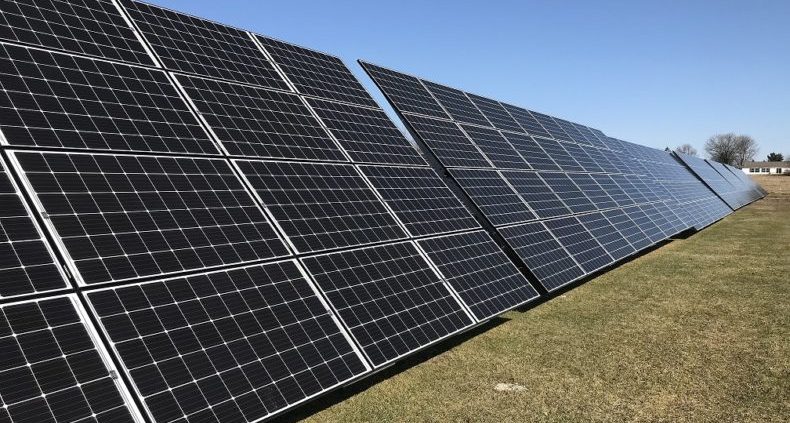 Tippecanoe Valley School Corporation is planning to use solar energy to offset the cost of electricity at Mentone Elementary School.
TVSC installed a 44-panel solar array on 1.5 acres of school property northeast of the school. The estimated annual energy output of the solar array will be enough to power the entire school. It is expected to officially begin producing electricity sometime in March.
"With concerns about reductions in state funding for public schools, it is imperative we continually explore opportunities that help our schools maintain educational programs and services by generating revenue in new and different ways," said TVSC Superintendent Brett Boggs.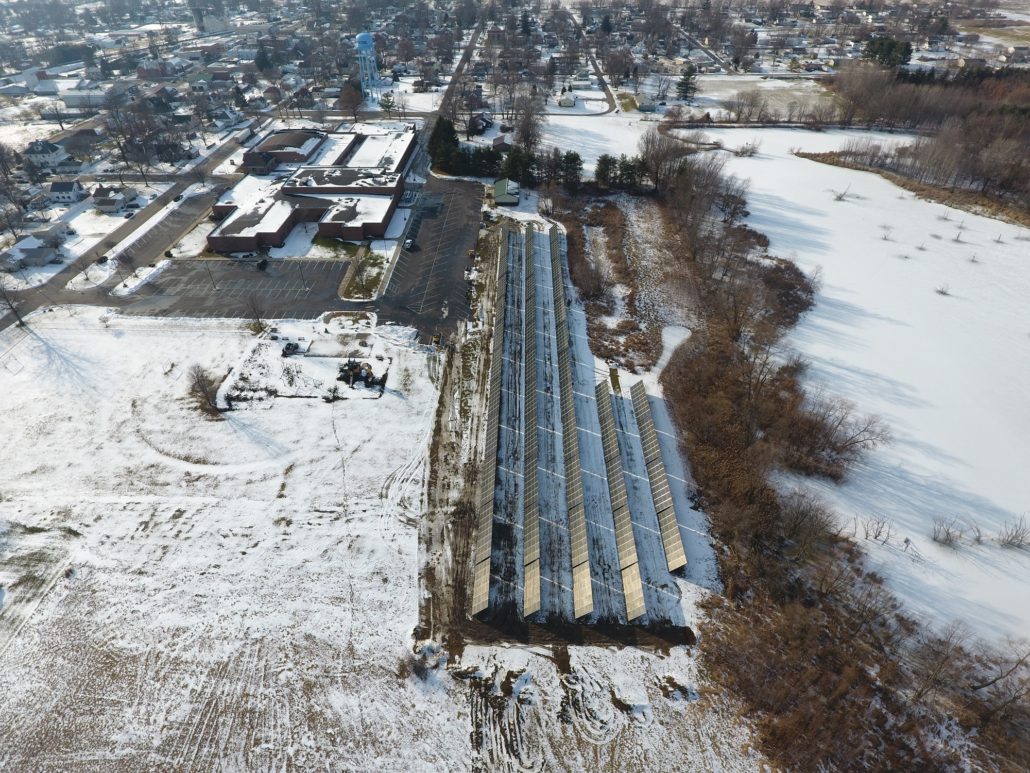 Revenue generated by the production of electricity will be used to cover the annual lease payment for the solar array. At the end of five years, the solar array will be purchased at fair market value and will belong to the school corporation.
The electricity produced by the solar array will be sold directly to Northern Indiana Public Service Company, which will credit the school corporation for the electricity produced.
"The value of the estimated energy produced by the solar array the first year will be well over $70,000, with additional revenue generated by carbon credits," said Boggs.
The total installed cost of the solar array was $875,000. The system is being purchased from and installed by Ag Technologies of Rochester. The adjustable steel support systems for the solar panels were manufactured by Craig Welding & Manufacturing, Inc. of Mentone.
In the fall of 2014, TVSC began exploring solar energy as a means of providing electricity for some of its facilities. The board of trustees approved several resolutions at the Nov. 13, 2017, school board meeting regarding the solar array to officially get the project underway.
"Bringing solar power to Mentone Elementary School is a wise financial decision that will benefit the school corporation for many years to come," said Boggs.
A school-wide conversion to LED lighting will be completed at Mentone Elementary School during the summer of 2018, which will result in improved lighting inside the school and consume less electricity.
Tippecanoe Valley has taken other initiatives in recent years to improve energy efficiency throughout its facilities. In 2009, a Guaranteed Energy Savings project was completed at the Burket Educational Center, which included a new geothermal heating and cooling system, renovation of restroom areas, a new roof and new energy-efficient doors and windows. In 2011, a wind turbine was built on the corporation's main campus.
This article originally appeared on tippecanoevalleyschools.com
https://solarcam.us/wp-content/uploads/2018/03/Mentone-solar-2-790x593.jpg
593
790
agtechnologies
https://solarcam.us/wp-content/uploads/2019/09/SolarCAM-Logo-Transparent-BG.png
agtechnologies
2018-02-26 02:18:33
2018-03-01 02:19:03
Solar Panels Installed at Mentone Elementary School