Business View Magazine interviews Jim Straeter, Founder of Ag Technologies (SolarCAM), for our focus on Growth of the Solar Industry in America

"In the heart of the Midwestern Corn Belt lies Rochester, Indiana, a rural town that is home to Ag Technologies, a family-owned business founded as a farm equipment and machinery enterprise, and SolarCAM, its patented solar stand, that deals in cutting-edge solar energy solutions.
As solar and other renewables become an increasingly vocal conversation in non-rural America, Ag Technologies founder James (Jim) Straeter believes it's time for rural America to join in. With wide-open spaces and, in some cases, exceptionally high greenhouse gas emissions, farming communities like the one in Rochester, IN, can play a pivotal role in creating a green economy by adopting renewable energy sources like solar.
But how did a farm equipment and machinery company become a champion for renewable energy in rural America? According to Straeter, it all started with cold showers…
"My dad was a farm equipment dealer, and I moved to Rochester in 1984 to manage a company store for New Holland," says Straeter. "In 1987, we bought the store, and we've managed to grow it to the current seven locations that we have. In 2009 I wanted to experiment with renewable energy as a hobby, so I set up a few windmills, but it soon became clear to me that they were never going to pay themselves back. I built a solar thermal hot water system at my house in 2011 and, at the time, we were all taking some cold showers, something the family was not very pleased with."
Shortly after realizing wind would not pay off, and dealing with cold showers, Straeter decided to try his luck on solar, especially as he saw how much cheaper it was getting year on year. He recalls, "So, we put up solar here at the farm equipment business in January 2012, putting in an adjustable mounting system. I realized that it actually could pay for itself, which led to the decision, later in the year, to sell and install solar installations commercially." That decision led to the development of SolarCAM, a trade-marked solar system venture Jim currently runs with one of his sons, Mike, while two other sons run the farm equipment arm of the business.
With a busy team of 15 skilled employees, SolarCAM sells and installs patented solar systems to rural customers in Indiana and the surrounding states. The company specializes in ground-mounted solar systems, with the company's product standing out because the arrays are adjustable to compensate for the different angles of sunlight throughout the year.
"In 2012, I realized compensating for the angle of the sun was critical to maximizing solar energy production, so I registered and got a patent for that," says Jim. By 2016, the company had created a turnkey solution that included planning and mapping, construction of small (residential) and large (commercial) projects, system monitoring, and grant applications. Since then, they've grown the business year over year, as more rural customers realize they have the space and need for renewable energy.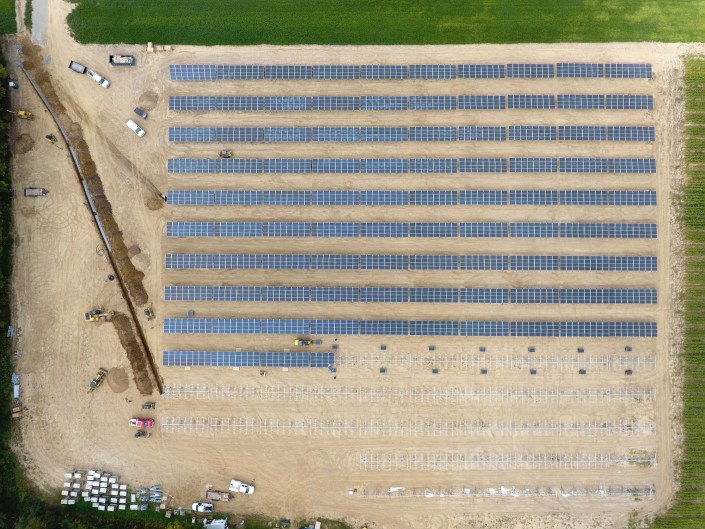 Part of the sales pitch the SolarCAM team applies when selling solar to rural customers is the cost benefit. As Jim explains, rural customers are less inclined to put in solar for ideological reasons but will do so if it makes monetary sense. He notes, "We sell solar systems based on the monetary return. We tell the customer, 'here is your payback; it might not pay you back in one or two years, but after 7 to 10 years, you'll have broken even.' Any environmental benefit is just icing on the cake."
Ag Technologies undertakes a feasibility study during each project and handles everything from planning and permitting to construction and commissioning. "We have two crews who handle all our projects, most of which are in northern Indiana," says Mike Straeter. "When Illinois had incentives, we did a lot of work there, but we've slowed down on that as we wait for the current energy legislation to go through."
One of the significant benefits Ag Technologies sees from installing solar systems in a rural market is the lack of substantial competition. "When we started, there wasn't much competition," shares Mike. "Now, there are currently less than ten installers in Indiana, most of whom are family-owned businesses that are more of resellers than turnkey solution providers. However, we are now seeing larger corporations coming in from Indianapolis and other big cities in the area that are doing smaller installations with long-term financing."
As competition mounts, SolarCAM plans on sticking to its roots of serving rural customers with a unique product that other outfits cannot copy. The company relies on word-of-mouth marketing as an effective means of growth, a marketing channel that Jim feels sells their product based on merit and not marketing hype. "Our customers telling prospective customers that we can be trusted – that we will do what we say we will do is by far our strongest sales path, bringing in close to 90 percent of all our business."
On the future of solar in rural areas, Jim sees vast potential not only at an individual farm level but also at an energy utility level. "Solar storage (batteries) has received a lot of publicity," he says, "especially because it's such a critical part of the future of renewables." Currently, SolarCAM is working on a five-acre utility-scale solar project with the Fulton County rural utility to install two Tesla Megapack batteries and link them to the grid. "We are around 99% done with the project and just need to finalize the commissioning of the Megapack batteries and energization before going live," Jim adds. "Once up and running, it will save the utility tens of thousands of dollars per month on-demand charges, paying itself back fairly quickly."
Although small and new to the utility-level solar game, Ag Technologies is proud to be a pioneer of utility-scale solar installations in Indiana, working alongside a local utility and Tesla, the largest solar battery company globally. "They (Tesla and Fulton County) have a lot of confidence in what we do, despite the small size of our company," says Jim. "Yes, it is scary putting in the first utility-scale solar system with storage in the state of Indiana, but our communications with Tesla have been excellent. They understand this is our first rodeo, and they want it to be as successful as we do. All the folks that we talked to at Tesla have been down to earth and very helpful."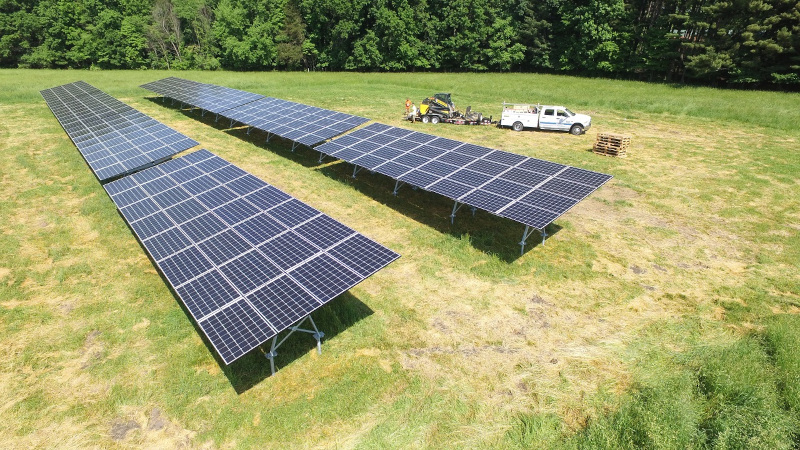 For Ag Technologies, the COVID-19 pandemic did not have that much effect because of a combination of rural area layouts and ground-mounted installation, which made social distancing easy. "We sailed right through the pandemic," admits Jim. "Aside from one crew getting infected, our business continued growing through the last year and a half, with 2021 expected to be our best year yet."
In addition to continued external growth, the company is also buoyed by the number of patents Jim holds, a strong foundation the company is building on. He reports, "I have 20 solo utility patents in energy and agriculture. The biggest challenge I have is that there isn't enough time to pursue everything at once. For now, I must concentrate on keeping my SolarCAM guys busy, so that's my current focus."
At 70 years of age, Jim is an active contributor to the SolarCAM business. Still, he hopes to relinquish more responsibilities to Mike as the company transitions to the next generation. "My top wish for the next five to seven years is not to be as involved in the company as I am now," he says. "I hope to continue contributing to the company intellectually but have the rest of the team handle growth and installations."
On Mike's part, his vision is to get more installations under their belt by widening their market reach and hiring more crews. He sums it up by saying, "Our current team is great, so I hope we can continue to bring in equally good people to support our future growth.""
This article is part of Business View Magazine's Clean and Green (Volume 8, Issue 10) publication and was produced on October 3, 2021.
https://solarcam.us/wp-content/uploads/2019/09/SolarCAM-Logo-Transparent-BG.png
0
0
agtechnologies
https://solarcam.us/wp-content/uploads/2019/09/SolarCAM-Logo-Transparent-BG.png
agtechnologies
2021-11-11 20:23:49
2021-11-11 20:28:27
Solar Solutions for Rural America